News
Click here to view our August, 2019 edition of The VIKING!
Click here to view the spring edition of THE VIKING, Spring, 2019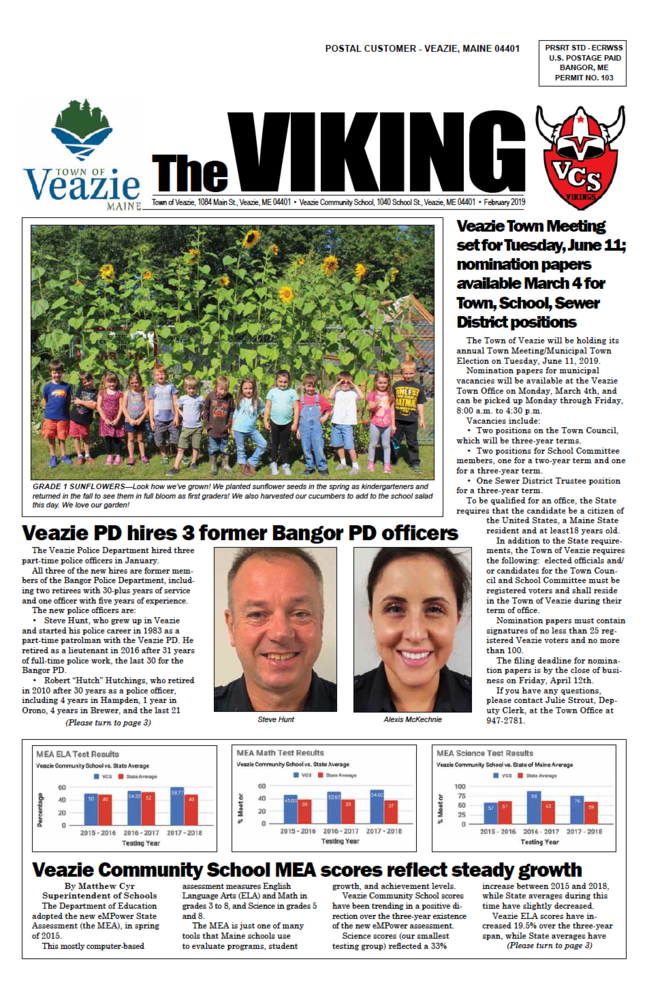 Click here to view the February, 2019 Winter edition of THE VIKING! Veazie residents should already have a copy through the mail.
SEE ALL NEWS
LIVE FEED

Matthew D. Cyr
1 day ago
Pre-K through Grade 2 is spending a few minutes each morning talking about kindness. Each day a different way to be kind is revealed and the students are challenged to try to use it throughout the day. It's a fun and meaningful way to countdown to December break. view image

Matthew D. Cyr
7 days ago
Many middle school students chose to go outside today during lunch recess to enjoy the freshly fallen snow! view image

Matthew D. Cyr
8 days ago
School may be closed but our PTO online auction is still running! Bid soon because the auction ends at 8pm tonight! Thank you for supporting our PTO....we have already surpassed our fundraising goal! https://www.32auctions.com/vcspto2019

Matthew D. Cyr
8 days ago
Veazie Community School will be closed on Tuesday, December 3. The timing and confidence of the predicted weather forecast present a rare opportunity to provide advanced notice for families to secure child care and other safety precautions. Please take care.

Matthew D. Cyr
15 days ago
It isn't 'Twins Day'......I think Liam is trying to take over Mr. Cyr's job! view image
SEE ALL POSTS