News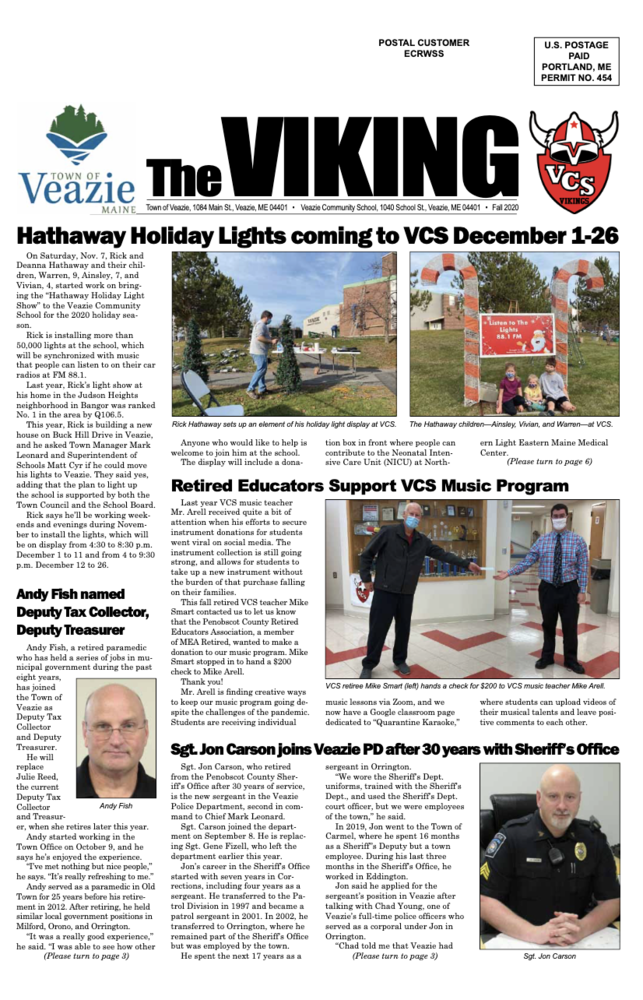 Check out the Fall, 2020 edition of The VIKING!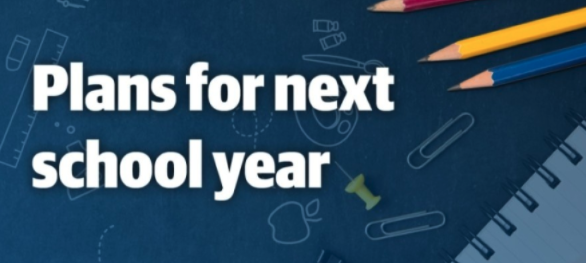 August 4, 2020 3:00PM EST COVID-19 MEMO #13 Veazie Community School 2020 - 2021 School Reopening Plan Dear VCS Parents and Caregivers, At last night's meeting, the...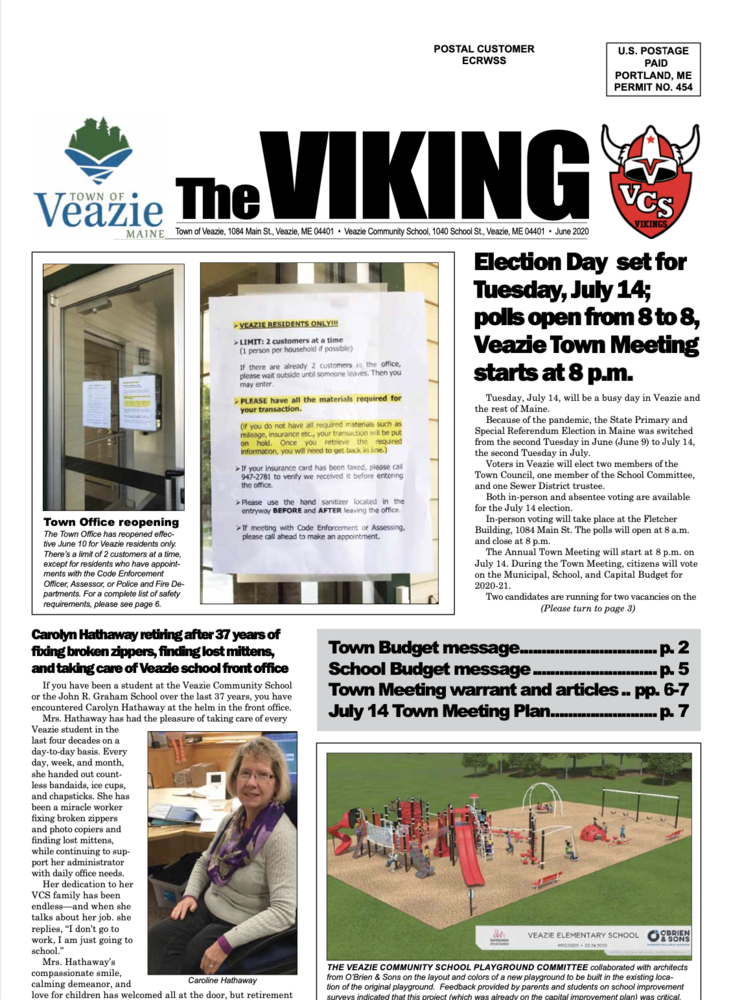 Click here to find our spring edition of THE VIKING: https://5il.co/hhgm
SEE ALL NEWS
LIVE FEED

Matthew D. Cyr
3 days ago
1/20/21 Dear VCS Families, Yesterday, we received official notification from the Department of Education that our Corona Relief Fund Day Programming Grant will be extended through the remainder of the current school year. These grant funds pay for daycare costs associated with students needing child care on remote learning days. (Note: This grant does not cover school vacations, weekends, holidays, after school care, or teacher workshops. Also, if your child care costs are already being covered by another funding source such as DHHS, you and/or the child care provider are not eligible for additional funding/reimbursement.) Presently, we have a MOU with the Bangor YMCA, and are in the process of finalizing an agreement with Fields4Kids in Hampden. We are sending out this survey to find out if there are any other state approved daycare programs that our families are using on remote learning days (these must be state approved programs). If you are currently using, or are interested in using daycare programming (for remote learning days) through the remainder of this school year, please fill out this survey so that we can provide accurate data to the Department of Education. Once we have this information, we can begin to work with you and your state approved child care to fully cover daycare costs associated with remote learning days. Please do not hesitate to reach out to me with questions. -Mr. Cyr mcyr@veaziecs.org Survey Link: https://docs.google.com/forms/d/e/1FAIpQLScJlXPCNWtfKxahcBqmY0iS-_OL-mWyvQdRRWhxN5PsPyosDg/viewform?usp=sf_link

Matthew D. Cyr
18 days ago
First Grade learned about moose today. Mrs. Richard brought in some moose antlers she had found up North. She also shared information, pictures and a video of moose she has seen in the wild. We read books to learn even more. We think they are a-moose-ing! view image


Matthew D. Cyr
about 1 month ago
Welcome to Monday morning, 2020. Moments after I sent the previous message, Google services were restored. I guess preparing for the worst, and the hoping for the best works out pretty good! Have a great day everyone!

Matthew D. Cyr
about 1 month ago
Google services are down this morning. This just happened within the past 20 minutes. We are still awaiting more details on how long and widespread, but it appears to be an international problem at this point in time. Zoom should still be working for our remote workers. We will continue to do our best with what we have, and provide updates as we learn more.
SEE ALL POSTS