News
Click here to view our August, 2019 edition of The VIKING!
Click here to view the spring edition of THE VIKING, Spring, 2019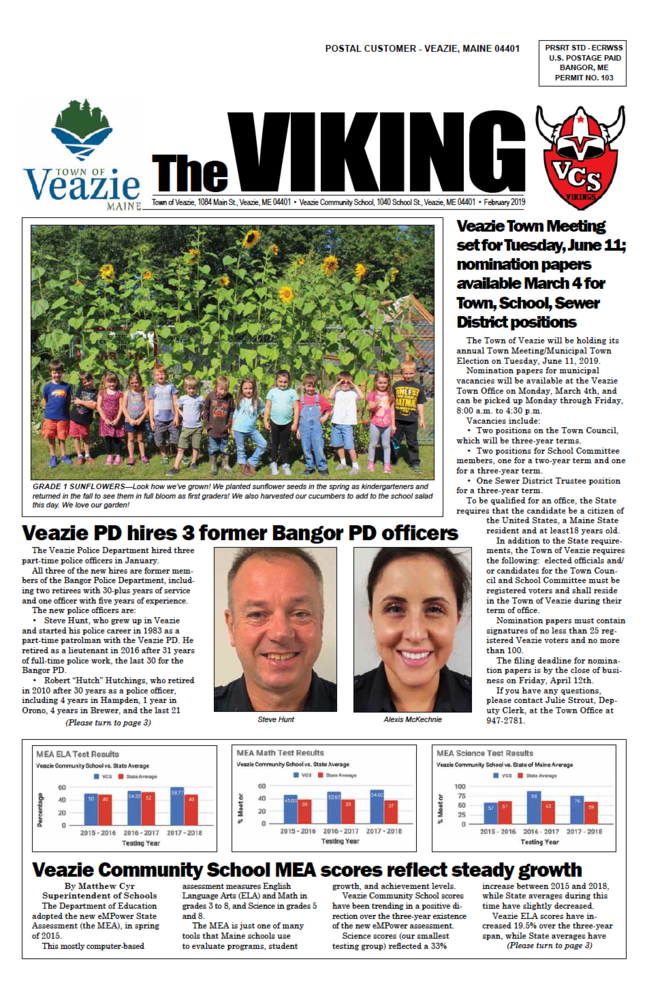 Click here to view the February, 2019 Winter edition of THE VIKING! Veazie residents should already have a copy through the mail.
SEE ALL NEWS
LIVE FEED

Matthew D. Cyr
3 days ago
The Garden Club is harvesting with Mrs. Richard for the next three weeks. Flowers for classrooms, food for the lunchroom. They also planted new lettuce! view image

Matthew D. Cyr
4 days ago
Dear VCS Families, Please be on the lookout for very important paperwork coming to you via mail. We are proud to be partnering with Blue Ribbon Schools of Excellence, Inc. to upgrade our school-wide strategic plan and capital improvement plan. This important mailing contains survey links and unique access codes. Completion time for the survey is estimated to be 15 minutes. Surveys must be completed by September 30, 2019. We are hoping to have every parent or guardian complete a survey. Please contact me if you feel that your mailing address was overlooked (we used all physical addresses provided to us during this fall's registration period). Data generated from the survey will help us to identify and celebrate our strengths as well as identify opportunities for growth. As a school, we are consistently looking for opportunities to grow so we can better and more strategically address each student's needs, goals and aspirations. Thank you very much for your time and support. Sincerely, Matthew D. Cyr Superintendent & Principal view image

Matthew D. Cyr
7 days ago
Welcome Mrs. Dorrity, our new PE & Health Teacher! We hope you have an awesome first day!! view image

Matthew D. Cyr
13 days ago
Tomorrow (9/4/19) is the last day to place an order with davidfrenchmusic.com if you want your instrument to arrive by Friday. Please contact Mr. Arell if you have any questions regarding obtaining an instrument.

SEE ALL POSTS