We would like to thank Connor Archer and the Courageous Steps Project for this generous donation of school supplies!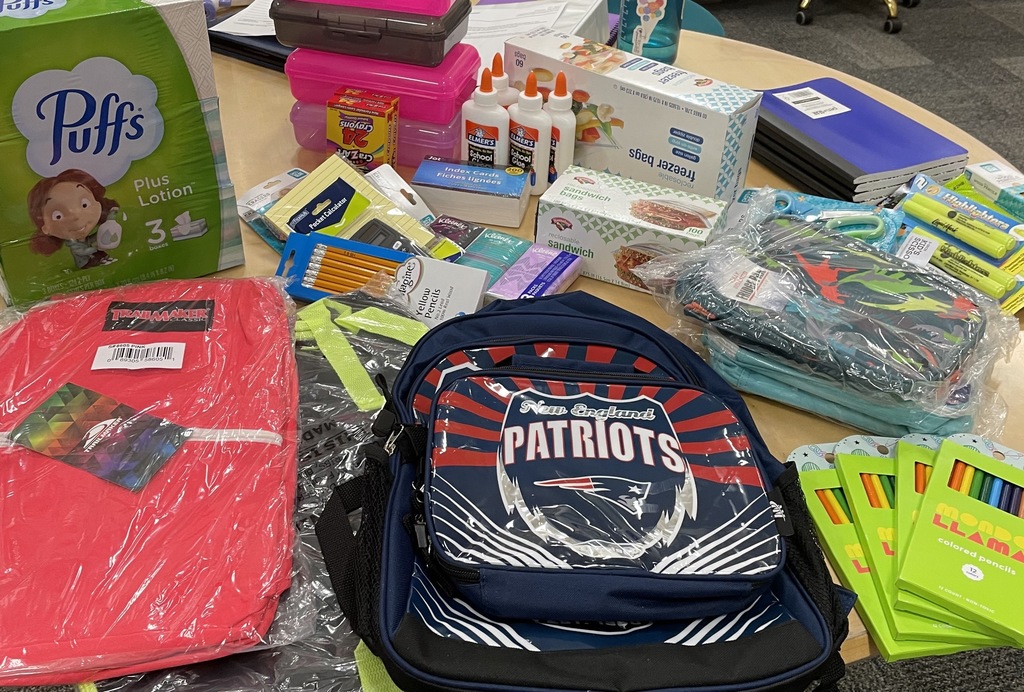 Veazie Community School seeks public input, while developing its application for funds available through the American Rescue Plan / Elementary and Secondary School Emergency Relief program. Among other details, the "ESSER" funds are intended to address the most critical and wide-spread needs caused by and exacerbated by the COVID-19 pandemic. For information on how to be involved in this process, please contact VCS Superintendent & Principal, Matthew Cyr at
mcyr@veaziecs.org
.
Veazie Community School has received a $5,500 Community Grant from the Bangor Savings Bank Foundation. The grant is for the purpose of refurbishing and maintaining school-owned musical instruments. The main focus of the Bangor Savings Bank Foundation are Education, Social and Civil Services, Culture and Arts, and Health and Wellness. Representatives from Bangor Savings Bank visited Veazie Community School on June 23rd to present the grant. With this grant, Veazie Community School is able to ensure student access to quality instruments for years to come.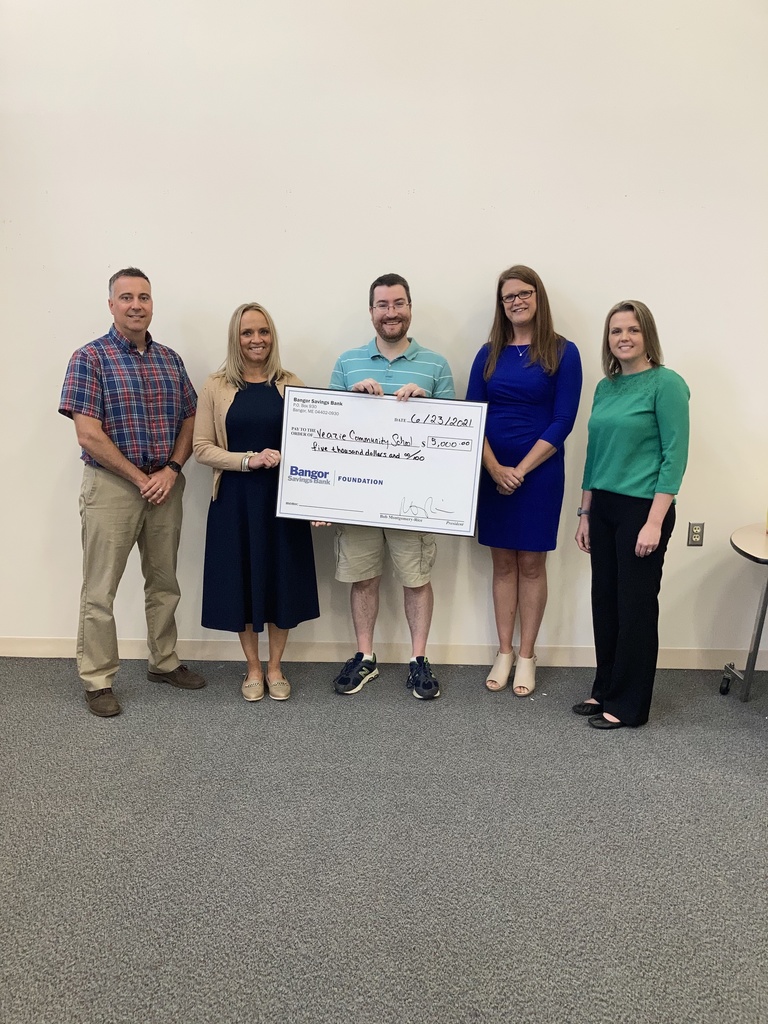 Yesterday was our last day with 8th grade. The entire school cheered them on before they loaded the bus for their class trip. Last night's graduation and celebratory parade were wonderful! We are proud of our graduates!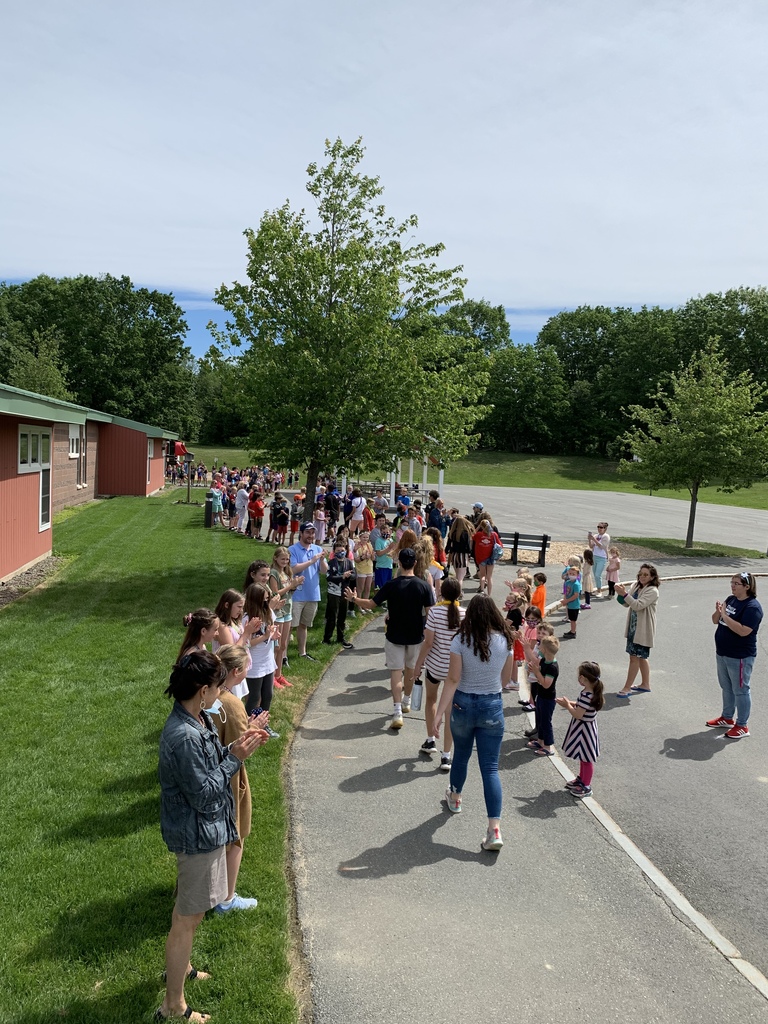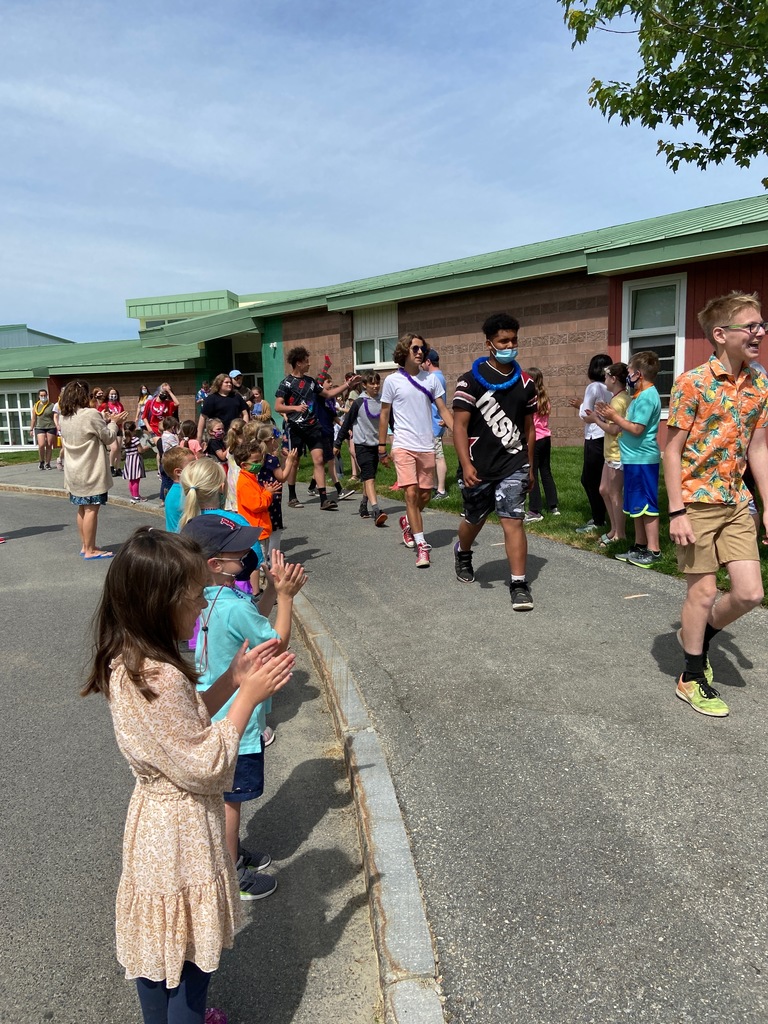 6/8/21 Dear Veazie Community School Friends and Families, It is with heartbreak and great sadness that I share news of the passing of Gail Harrison after a short and courageous battle with cancer. Mrs. Harrison was an Educational Technician who worked with Veazie students for 33 years in multiple roles ranging from caring for the school library to supporting individual student learning needs. Mrs. Harrison was a beautiful person who always placed the needs of others before her own and was widely known for having sparkle in her step and outfits! With the support of Mrs. Dineen, our school counselor, classroom teachers will be sharing this news with students who knew Mrs. Harrison. Thanks to overwhelming support from neighboring schools and agencies, we will also be providing opportunity for students and staff who need to talk during the day and after school. We would also like to share the following link as a resource for families to support students at home:
https://www.dougy.org/
At this time we have no information about funeral arrangements. We ask that you keep Mrs. Harrison and her family in your thoughts. Life is so short and precious. We have been through so much together this year. Mrs. Harrison wanted us to be happy….with this in mind, we will channel Gail's love and passion for working with kids. Be kind to one another. Take care. Sincerely, Matthew D. Cyr Superintendent/Principal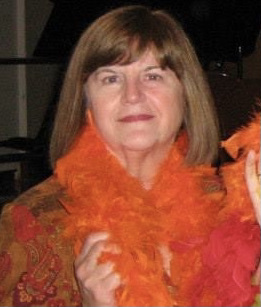 It has been 13 months since we replaced our gym floor, and today is the first day students were able to see what it looked like! Until now it had a protective cover because this space was used as our cafeteria. That light at the end of the COVID tunnel keeps getting brighter!!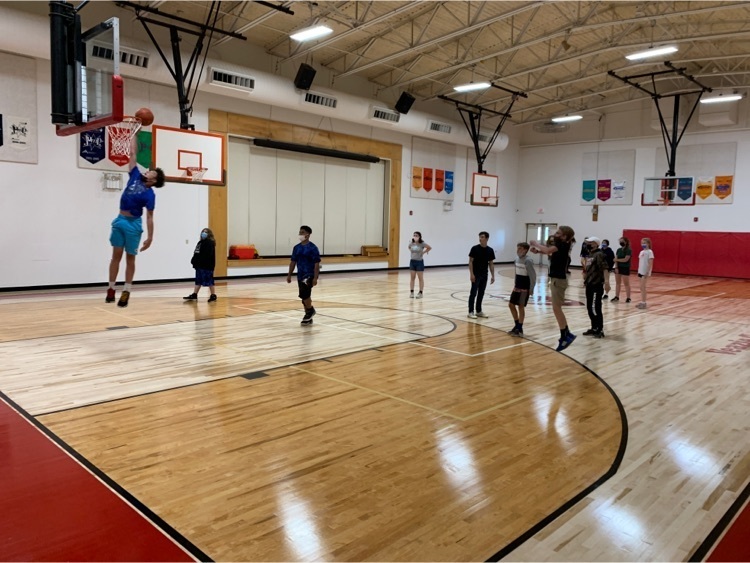 Just want to let you know, Pre-K knows the caterpillars are dangerous. They've now moved on to SLUGS!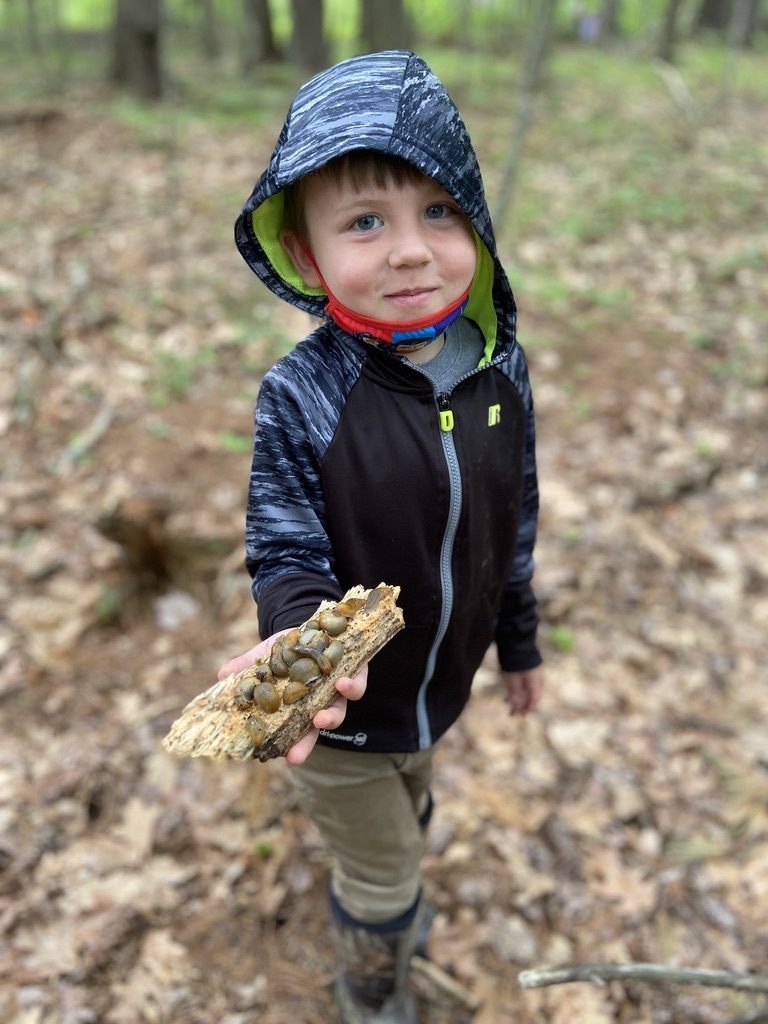 Please read this important community notice regarding work being done next week on the gas line in Veazie.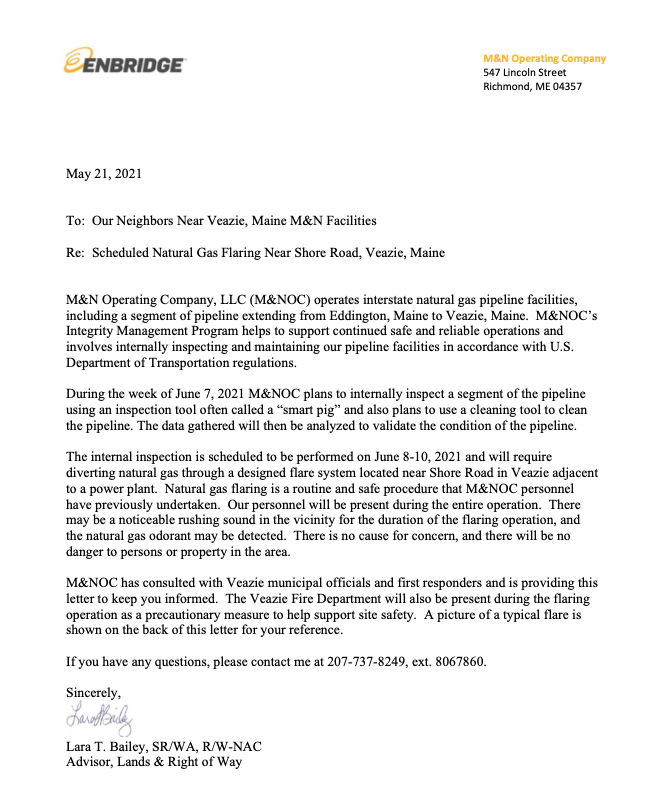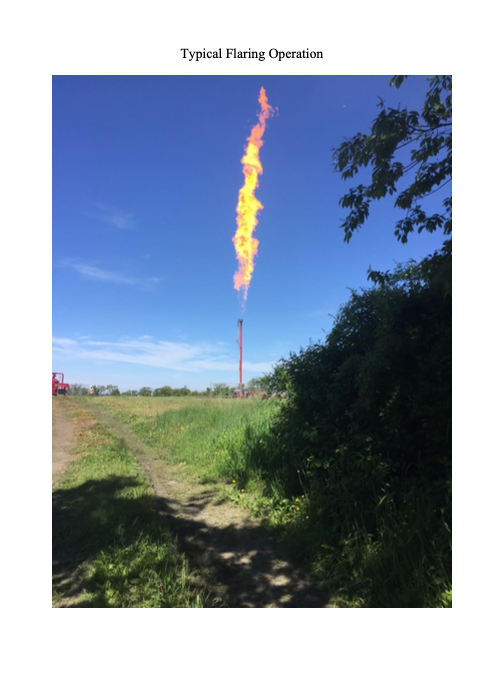 High winds over the past two days released browntail moth caterpillars around our school, but we are learning this has happened wide-scale around Maine. These caterpillars look cute and fuzzy to kids, and they often want to touch them--or even take them home to become a pet! We will be educating students today about the dangers of touching caterpillars, in particular, this one. Please do so at home as well. Here is some information that was shared with schools from Gary Fish, a State Horticulturist at the Maine Department of Agriculture, Conservation and Forestry: This CDC brochure helps to understand the human effects (rashes, respiratory effects):
https://www.maine.gov/.../epi/shm/Browntail-Moth-FS.pdf
This FAQ covers many points you might be interested in:
https://www.maine.gov/.../invasiv.../browntail_moth_faqs.htm
This Maine Forest Service brochure is helpful to understand the caterpillars and how the hairs become a problem:
https://www.maine.gov/.../doc.../browntail_moth_brochure.pdf
Why are they a problem? The browntail caterpillar has tiny (0.15 mm) hairs that on sensitive individuals cause a skin rash similar to poison ivy and/or trouble breathing. The microscopic hairs break off the caterpillars and are everywhere in browntail infested areas; on trees, lawns, gardens, decks, picnic tables and in the air. The hairs can remain toxic for up to THREE YEARS so although the problem is worst from May to July, they may cause a reaction at other times of year as well. Wind or activities such as mowing, leaf-blowing, etc., can stir up the hairs, leading to a reaction. The rash and trouble breathing can last anywhere from a few hours to several weeks. It is caused by both a chemical reaction to a toxin in the hairs and physical irritation from the barbed hairs. Contact your physician if a reaction is severe. The greatest risk of exposure to the toxic hairs is between April and July. Caterpillars, shed skins, and cocoons all have toxic hairs. The toxin is stable in the environment for one to three years and hairs can become airborne at any time. It is important to take precautions year-round in heavily infested areas.

Tomorrow's forecast is calling for very warm temperatures in the mid-80's. Please remind students to bring their water bottles to school!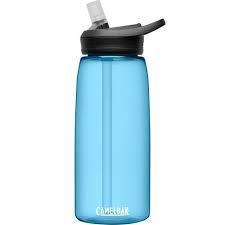 Check out the map for details on the 8th grade graduation parade route. The parade will begin immediately following graduation on June 10 (around 7pm).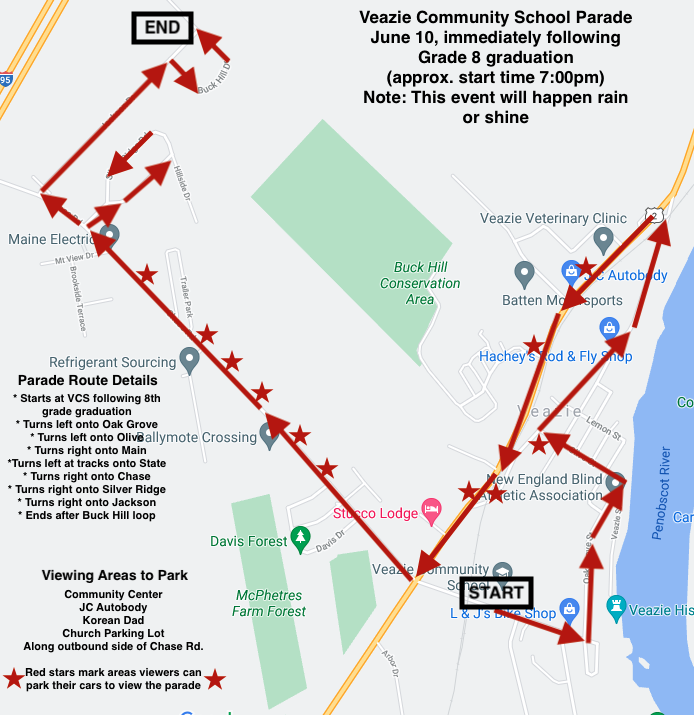 5/6/21 Hello Veazie Community School Families, We are excited to announce that signups are now open for our Summer Learning Program. This program open to all VCS students currently enrolled in grades K - 8. Sessions will be 8:30 - 11:30 every Tuesday, Wedenesday and Thursday from June 29 - July 29. Important things to note: This summer program is in-person learning, only (No Remote or Hybrid Instruction) Bus transportation is available Breakfast and Lunch will be provided on each day a student is in session This program is free for all current VCS K - 8 students Enroll your child today! (please complete a new survey for more than one student):
https://docs.google.com/forms/d/e/1FAIpQLSfwO2Zt-UOiNPgnvmWw2pRCl6P8TmiZkN2LNIHJ8WQgYkjDGQ/viewform
Direct questions to Mr. Arell, our Summer Learning Program Coordinator:
marell@veaziecs.org
Have a great day! -Mr. Cyr
Calling former students! Mrs. Logan is retiring after 42 years of teaching Veazie students. Please use the form below to submit memories, stories, and kind words to help celebrate her!
https://forms.gle/sfUbt1Lb3bCwuvC29

Congratulations to the Veazie Viking Robotics Team for winning the Global Innovation Award and having the highest scoring robot at this year's First LEGO League State Competition! With the Global Innovation Award comes opportunity to compete at the world level along with other state and national champions. We are beyond proud of this incredible group of young problem solvers!!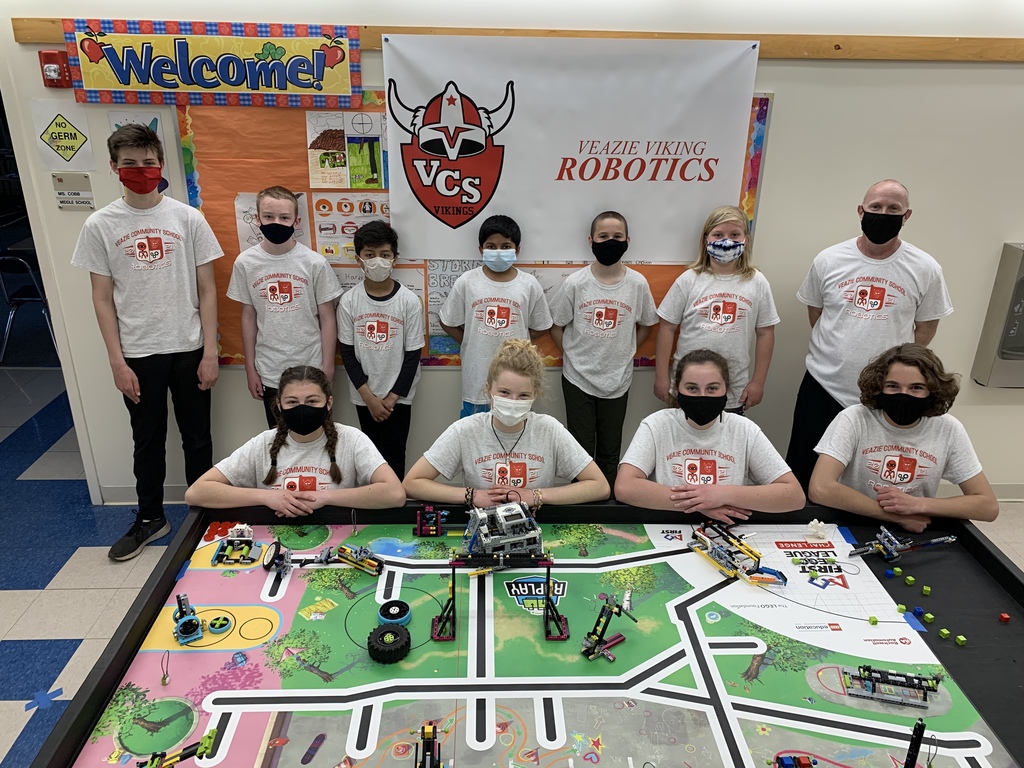 4/6/21 Hello VCS Families, Much work continues on our schedule for returning all students to in-person learning after April Vacation. Thank you all for completing our survey. The information you provided has allowed us to revise our drop-off/pick-up schedule as well as bus seating assignments. Beginning Monday, April 26, Veazie Community School will be using the following schedule for morning student drop-off and afternoon student pick-up: Morning Drop-off (walkers and parents transporting students): Grades PK - 5: 7:50 - 8:00a.m. using current drop-off locations (the student day for grades PK - 5 begins at 8:00a.m.) Grades 6 - 8: 8:00 - 8:10a.m. using current drop-off locations(the middle school student day begins at 8:10a.m.) *The current morning bus schedule should remain unchanged (same morning pick-up times) Afternoon Pick-up (parents picking up children and when walkers are released): Grades PK - 5: 2:20p.m. Grades 6 - 8: 2:30p.m. *The current bus dismissal schedule will remain unchanged (same afternoon drop-off times) Important things to note: *It is important for parents in vehicles to follow our drop-off and pick-up times. These are not suggestions, and are scheduled this way to mitigate excess traffic congestion. *Parents should be mindful of the amount of time it takes to drop-off and/or pick-up a child. If extra time is needed, please use one of our parking spaces so that there is a reasonable flow of traffic. *Unless extra space is available, siblings will be required to sit together on the bus in order to safely space out riders. *If a middle school student has a younger sibling in grades PK - 5, they are allowed to be dropped-off between 7:50 - 8:00a.m. We will also dismiss these same middle school siblings with their younger siblings at the younger pick-up time (2:20p.m.) Thank you for your continued support! Sincerely, Mr. Cyr

April Vacation Travel Advisory: Travel guidelines established by Governor Mills remain in effect. At this time only the following states are considered exempt from testing or quarantining: Connecticut, Massachusetts, New Hampshire, Rhode Island and Vermont. Guidelines for international travel differ and require a quarantine regardless of testing. For most up to date travel guidelines please see the CDC website
https://www.maine.gov/dhhs/mecdc/infectious-disease/epi/airborne/coronavirus/travel.shtml
If your child and/or family will be traveling over vacation to areas not included on the exemption list or internationally, please notify myself (
mcyr@veaziecs.org
), our school nurse (
apeters@veaziecs.org
), or our office manager (
tlindsey@veaziecs.org
). After doing so, you will be contacted to review instructions and discuss guidelines prior to return to school. Thank you all for the efforts and continual support to keep the school safely running, the community safe and mitigate the transmission of COVID-19. It is very important at this time to continue to be vigilant with symptoms checking and following guidelines. We are excited and look forward to our step toward "normal" and returning to a full in person schedule after April break. -Mr. Cyr

March 25, 2021 Return to Full-time, In-Person Learning: PK - 8 Beginning April 26, 2021 Dear VCS Families, At last night's special meeting, the Veazie School Committee voted unanimously in support of a return to in-person learning plan for all students PK-8, which was originally drafted by the VCS HYFLEX committee, and later approved by the VCS School Reopening Advisory Committee. Beginning after April Vacation (April 26, 2021), all Veazie Community School students in grades PK - 8 may return to in-person learning, 5-days/week. While fully-remote learning will still be an option for families this spring, we are encouraging remote-only students to consider returning to in-person learning for these final 7-weeks of school. March 31 and May 12 will continue to be early release days as scheduled, and our last student day remains to be Friday, June 11. Our advisory committees have taken into consideration several factors including the eligibility of educators to receive vaccinations, recent scientific recommendations pertaining to social distancing, and our sincere desire to end this school year with a level of normalcy for both staff and students. Notable safety protocol changes approved by all three committees include shifting to 3-feet of spacing within classrooms when 6 feet cannot be achieved, and expanding our pod sizes for grades PK-2, 3-5 and 6-8 (as needed for the delivery of specialized instruction). What hasn't changed: mask mandates for all inside the school and outside on school grounds; 6 feet of spacing and no talking when masks are removed during snack/lunch; and, minimal hallway exchanges for students (specialists will come to the classrooms). I want to stress that this new plan is in response to relatively positive safety measures in recent months. We will continue to closely monitor how new variants of COVID-19 have been impacting community transmission, and if needed, reserve the right to adjust our plans accordingly. A great deal of work and planning must be done prior to this exciting step forward and we need your help! We are asking all families to complete the following short survey so that we have the necessary information we need to move forward. SURVEY LINK:
https://docs.google.com/forms/d/e/1FAIpQLSfbdlV7yUCBtYA7kwJeypPcyd3rpuN2nSZesF6ak94Y-ESnCg/viewform?usp=sf_link
The information families provide in this survey will assist in the development of a revised pickup/dropoff schedule beginning after April Vacation. We will do our best to keep timeframes close to where they are now, but do ask for your patience in advance while we work through many factors including the overall safety of our students, bus runs, and traffic flow patterns. YOUR ASSIGNMENT is to complete the survey above on or before Thursday, April 1 (and that's no joke!) Since many families make different decisions for individual children, we ask that you complete the survey separately for each child. I will communicate official dropoff/pickup procedures as soon as they become available. If you have questions or need help with the survey, please contact myself, or our office manager, Tiffany Lindsey:
mcyr@veaziecs.org
,
tlindsey@veaziecs.org
We will stick with our current plan to increase in person learning for grades 3 and 7 prior to April Vacation while grades 4, 5, 6 and 8 will continue on their current hybrid model until vacation: Week of March 29: Grade 3 will attend M/T/W and grade 7 will attend W/Th/F. (normal schedule for all others) Week of April 5: Grade 3 will attend M/T/W/Th and grade 7 will attend T/W/Th/F (normal schedule for all others) Week of April 12: Grade 3 and grade 7 will attend M - F (normal schedule for all others) Week of April 26 - remainder of the year: In person learning for all, grades PK - 8 (remote-only option as requested by families) We are excited for this positive change and look forward to seeing our students in person each day. The Veazie Community School staff, as well as all of our families, have undergone herculean transformations in order to balance in person and remote instruction over the past 8 months. Our goal all along has been to safely return all students to in person learning. Thank you kindly for your continued support. Sincerely, Matthew D. Cyr Superintendent/Principal Veazie Community School

You know spring has arrived when the floor becomes lava. Is that snow they are calling for Sunday into Monday? Yuck.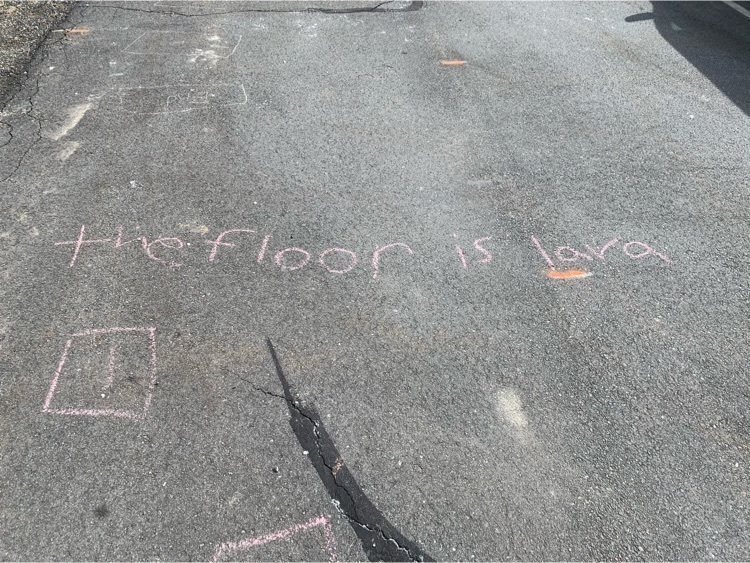 On Friday, March 19, Veazie Community School staff will join nearly 1,400 educators from Eastern Maine for a day of training with a focus on Social, Emotional, and Equity Learning. This regional workshop is hosted by the Penobscot River Educational Partnership (PREP). There is no school for students on this day (3/19/21).